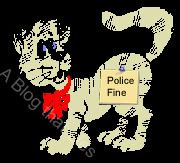 LANSING, MICHIGAN- A lot of strange incidents have been happening in the city of Lansing these past few days. The latest incident involves a cat charged with a felony. The cat allegedly knocked over a shotgun making it shoot one round. The owner was shot in the leg and is now in a local hospital. He is reported to be in stable condition.
"I was doing some work in my tool shack," Jerry Lee, the victim, said. "I had my cat there for company when I heard a loud crash. Next thing I knew, my leg was bleeding."
Because of felony laws, the cat can face up to ten years in prison. However, due to animal protection laws the chance of that happening is really slim. Still, Guinness World Records is still adding the cat into the record book as the first animal charged with a felony.
"I would never ever charge my sweet lil' Bunny (The cat's name) with anything. It's just so cute and fluffy. Bunny would never hurt me intentionally."
There has been a lot of speculation of a cover-up on the case though. So far, police have looked at the shotgun and have not found any solid proof of the cat firing the shot. A lot of locals say that the Jerry was just trying to cover up an attempted suicide. Apparently, Jerry has tried committing suicide before.
"I'm very concerned about my brother," Yule Lee, Jerry's older brother, commented. "If anyone knows him well, they would know that this was an attempted suicide. My brother is mentally ill, and he has tried everything from pills to hanging. This is just his latest failed suicide attempt."
Police are still investigating the crime scene for more clues. Hopefully, this incidents is the last wacky incident for the locals in Lansing.
Disclaimer:This is just a twisted story based on the news story. Why have Twisted News? To make news more interesting and to get people to read the boring news.To see the real story click here Please share your opinions and criticisms by commenting.
If you liked this post, please buy me a drank.