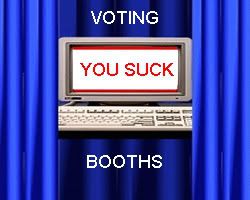 FLORIDA- A hacker has infiltrated the Florida's voting machines during elections. Many people report seeing horrific images and phrases after they placed their votes. Authorities say that the hacker is very skilled, because the hacker has not left a shred of evidence. The election may have to be postponed while technicians are trying to fix the problems.
"I had just voted for Bill Clinton," Rudy Anderson, an avid voter, said. "I was just about to leave when the words 'What? Has he been cheating with you too?' appeared on the screen."
Other testimonials also report that the phrases were targeted towards the voters making it seem as if though the hacker could see the voters. Police have searched the place and have not found any cameras of any sort. While many voters are left shocked and scarred for life, some are actually happy.
"After I placed my vote in, a man's hairy butt came onto my screen. I've been trying to tell my parents that I was gay, but I never gathered up the courage to do so. Suddenly, I felt pressure from inside my pants. There was no way I could stop it. It just so happened that my parents were behind me. When I turned around, I didn't have to say a single word. They finally understood." Roy Lee said smiling.
Authorized are puzzled at how the hacker even got in to the highly secured network. It would require years to crack all the passwords to get in. This leads some to believe that is was done by a group of hackers.
"Whoever did it will be punished soon. So, if the hacker or hackers are watching this turn yourself in! Even though we don't have a shred of evidence, we'll get you." Tom Sanders, sheriff of the Florida's state troopers, said.
For now, the hacker has caused chaos and emotional suffering. Florida state police need your help. If you know anything about these incidents please call 1-800-DOUGH-NUTS.
Disclaimer:This is just a twisted story based on the news story. Why have Twisted News? To make news more interesting and to get people to read the boring news.To see the real story click here.
If you liked this post, please send me a donation!