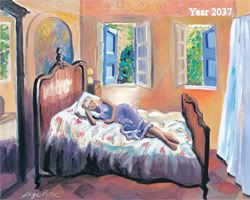 PASADENA, MARYLAND- Veronica Sheldon, dubbed the modern Rip Van Winkle, has woken up from her deep and long sleep finally. How long did she sleep? 10 hours? A whole day? Actually she managed to sleep for thirty years. During her thirty years of slumber, police and authorities were investigating for a possible homicide. It was not until today Veronica woke up to see a whole different world.
"It's amazing how much our world has changed in the last thirty years," Veronica said. "Now there's this thing called cell phones where you can talk in a cell now and this big net for catching fish called the Internet. Really fascinating, I'm going to have to get use to it."
Scientists are still amazed at how Veronica survived with no food or water for thirty years. They say that her body totally shut down except for the heart, and it was able to sustain itself without nutrients for thirty years.
"I'm just glad that she's back," Debora Sheldon, her mom, said. "She had us worrying for thirty years. Now I can finally have her in my arms."
Disclaimer:This is just a twisted story based on the news story. Why have Twisted News? Twisted News makes the boring news more fun!To see the real story click here Please share your opinions and criticisms by commenting.
If you liked this post, please buy me a drank.