These days, all you hear are liberal environmentalists going crazy over "global warming." I'm sick and tired of all of them jumping around, saying that global warming will be our destruction and accusing the government of not doing anything. Would someone just stick a sock in their mouths? They have to realize we have much more important things to worry about.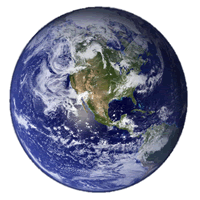 First of all, forget everything those environmentalists have told you about the temperature of the Earth rising exponentially. The only reason they believe is because their computer models predicted it. These are the same models that predicted sea levels would rise by 3 feet by 2100. Now scientists say that number is more like 17 inches. The models also did not predict the ocean cooling, which is the opposite of what's supposed to happen with global warming. Putting these false assumptions aside, the fact is that the Earth has only risen 0.2 degrees Celsius over a span of 65 years. That tiny amount doesn't even necessarily have to come from us. It could be the natural Earth's cycle or a simple calculation error. Ever since 1998, we've had almost no warming at all. Even if all the computer models are true and in the next century, the Earth will have an overload of CO2; we have the science to stop it. We can simply turn all the CO2 in the air into solid form using a process called carbon dioxide fixation. It doesn't stop at just having the Earth warmer. Some brave environmentalists have even made the claim that the climate change will cause stronger hurricanes. Recently, studies have shown that global warming actually makes a hurricane weaker. According the Wall Street Journal, global warming helps make a weather phenomenon called "wind shear." This "wind shear" helps prevent the growth of hurricanes and stop them from turning into beasts. Global Warming is just not as bad as some environmentalists picture it to be.

So if we don't have to worry about global warming, what do we worry about? How about nuclear weapons and AIDS? AIDS alone has killed over 25 million people since it has been discovered. Approximately 16,000 people die a day from AIDS alone. You don't see global warming doing this amount of damage. Currently, both Iran and North Korea are building or have nukes that need to be disarmed. Global warming may kill is in future centuries, but if we don't deal with these nuclear bomb programs, we might not even make it out of this century. Yes, our environment is important, but there are so many other problems we have to tend to.

Remember, I'm all for having a clean environment. However, global warming is not as big of a threat as some environmentalists picture it to be. There are tons of things we have to get rid of before global warming: poverty, nuclear bombs in the wrong hands, starvation, genocide, AIDS, etc…
If you liked this post, please send me a donation!