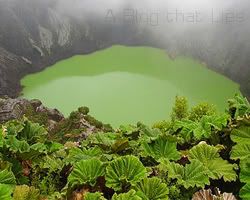 VERMONT- A new type of highly advanced algae is invading the waters of Vermont. The algae's scientific name is Didymosphenia geminate, but is commonly known as rock snot, because it apparently forms from rocks. However, this is not your typical algae; this type of algae has a brain of its own and can function like a highly sophisticated animal. They are asexual and can reproduce on their own making them reproduce at record speeds. Already thirty percent of Vermont's waters is infested in rock snot making the governor declare a state of emergency.
"This is not just a state emergency, it's a national epidemic," Ricky Pablo, marine biologist, said. "If these highly evasive algae spread all across the country, pretty soon we won't have any drinkable water left."
Biologists around the country are taking samples of these algae and studying them as fast as possible, but it may already be too late. Millions of marine life has already died from the algae and scientists have found no way of stopping these pests soon.
"Circumstances like these call for desperate measures," Sarah Goodley, leading marine biologist, commented. "If we don't stop this rock snot soon, all our drinking water will become contaminated. In a couple of weeks, we might have to dump chlorine into the water system killing off all marine life including the algae. This is the only way to keep the algae from spreading."
Before putting chlorine in the water system, biologists have released several algae eating species of water hoping to clean the system. If that doesn't work, chlorine is their only choice.
Disclaimer:This is just a twisted story based on the news story. Why have Twisted News? Twisted News makes the boring news more fun!To see the real story click here Please share your opinions and criticisms by commenting.
Don't Forget to Subscribe!
If you liked this post, please buy me a drank.