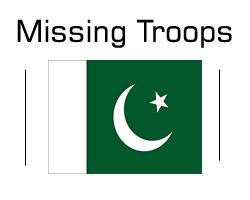 ISLAMBAD, PAKISTAN- One hundred missing Pakistan military forces have been found after a hide-n-go-seek game went terribly wrong. During their break shift, a group of military men decided to play Hide and Seek to pass the time. About a hundred participated and when they went off to hide, they were never seen again until today.
"War is so gruesome and bloody, sometimes reverting to the children games calms us down," Akbar Mohammed, part of the infantry that was missing, defended their actions. "We play everything from tag to follow the leader. That day everyone including the generals participated. I was the seeker, but it's near impossible to find a hundred different people spread apart in a war zone."
The infantry were found after a flying helicopter spotted the men hiding in bushes and trees. The troops had been hiding for days living off of raspberry bushes. When the troops didn't return when they were supposed to, they were all reported missing to the general public.
"I'm just relieved," Salah Huidi, family member of one of the missing, spoke out. "When I heard they were missing, I thought it was a terrorist attack or worse."
This incident has greatly embarrassed the Pakistan Army, and now Hide and Seek and other games have been banned.
Disclaimer:This is just a twisted story based on the news story. Why have Twisted News? Twisted News makes the boring news more fun!To see the real story click here Please share your opinions and criticisms by commenting.
Don't Forget to Subscribe!
If you liked this post, please buy me a drank.