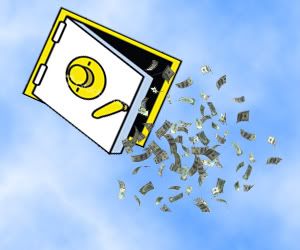 TOKYO- An upside down gigantic safe has been spotted over the sky of Tokyo, Japan making money fall from the skies. The owner of the safe and why it's up there still remains a mystery. For now, money has been scattered all throughout Tokyo in mailboxes, bathrooms, and on the ground.
"I was just working on my shop," Nagashki Mayikono a store clerk said, "when I found 5,000 yen (42 American Dollars) in front of my shop!
Officials said that a total of 1.81 million yen (15,210 dollars) has rained from the sky so far. No one knows how much is left in the safe or how long it'll keep raining. Most of the people are quite happy about this bizarre event.
"I finally have enough money to buy condoms!" An anonymous male teenager said as he found several thousand yen in his mailbox.
On the other hand, some people are actually quite scared about the random money falling from the sky.
"What if the money belongs to the heavens? There is no scientific explanation for why a safe would be dangling from the sky making it rain money. The citizens of Tokyo will surely be struck down if they're stealing from the heavens." An elderly woman said.
Police and detectives are still scratching their heads and admit they have no leads to who owns the safe.
"I wouldn't be surprised if the safe was owned by an alien." Yuske, a police chief, said.
For now, the citizens of Tokyo can only enjoy the weather: raining money whether they like it or not.
Disclaimer:This is just a twisted story based on the news story. Why have Twisted News? To make news more interesting and to get people to read the boring news.To see the real story click here.
If you liked this post, please send me a donation!