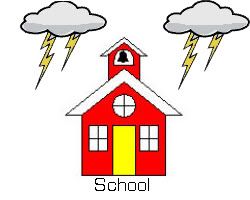 SOUTHCAROLINA- A new study has been published, and it claims that lightning is attracted to teachers. The research shows that when walking along with a teacher your chance of being struck down with lightning is increased by 0.2 percent. The reason? Scientists believe that knowledge itself is positive charge, and because lightning is negative, the more knowledge you contain the more likely chance you'll be struck by lightning.
"This study is quite interesting," Susan McCarthy, a school teacher, said. "If it's true, then people will actually be afraid to enlighten themselves with knowledge. However, I think the risk of being smart is worth it. You'll get a better job, better college, and better life."
This may explain why a student and teacher were struck down when they were walking together. The victims, Mark Hanson and biology teacher Peter Madison were reported in stable condition. Witnesses say that there was no apparent sign that a thunderstorm was brewing up when they heard lightning strike.
"I doubt that this study is actually true," Jessica Mill, a biologist, said. "If that's true then why haven't the smartest people in the world been touch by lightning? If knowledge really is positive, then Albert Einstein should have been struck a thousand times! The 0.2 can easily be from experimental error."
Disclaimer:This is just a twisted story based on the news story. Why have Twisted News? Twisted News makes the boring news more fun!To see the real story click here Please share your opinions and criticisms by commenting.
Don't Forget to Subscribe and enter to win a free review!
If you liked this post, please buy me a drank.