Several hours have passed before your eyes as you stare upon the clock. In front of you is an eight page paper that needs two pages more by tomorrow. Ideas such as using smaller paper or changing the font size come through you head. You don't want to get caught though and risking getting a failure. Does this describe you often? Recently, I discovered a straightforward, undetectable, and effortless way to increase the number of pages in your essay. This technique is very applicable for those of you who are college and high school students, and after being mastered, only takes a couple of seconds to do.
What is this "technique" that I'm talking about? Essentially, this technique makes your period size bigger. It enlarges the period size unnoticeably and increases the sentence size in doing so. All you have to do is type up your essay, then stop halfway at your ending point. So if you have to write a 4 page essay, stop at 2 pages. Go back and find every period you can. Assuming your school follows MLA Standard Format, and you have to use Times New Roman 12 font, then go ahead and change your period font size to 14. Don't change the text size, just the period size up to fourteen. You will see a considerably significant "bounce" in your sentences; enough to create almost a third of a page difference. If you are using double space, it makes more of a difference, almost half of a page taken up.
If you think your teacher's eyes are not well enough to see the difference at all, you may even want to try 16. But be careful, don't make every period a size 16, just a few, leave the rest 14 because it makes almost no variation from a size 12 periods. Furthermore if you still need more pages, you can increase the size of commas or semicolons. The more pages you have, the more pages this technique will add on. For example, if you have a 1 page paper, it'll probably make it only 1.10 pages. However, if you have a 10 page paper, it'll probably get it to around 13-14 pages. What's amazing is that the size difference between a 12 font period and a 14 font period is less than a millimeter, yet it yields great results.
There is also another way to complete this task. It is additionally quick and simple. All you have to do is open up your text document, then first off click CTRL+F. Then there should be a tab that says "Replace", click on it. After that you should see a box that says "Find and Replace", type in a period there where it says Find What, and another period where it says Replace With. Now before clicking OK, look to the bottom of that "Find and Replace" box and you should find a tab that says "More" (Be sure to have the cursor on the Replace With part, not the Find What part, otherwise it will tell Microsoft Word to find a size 14 period when there is none). Click on that, and then find another tab that says "Format", in this tab click on Font, and set it to size 14. It is as trouble-free as that.
Figure 1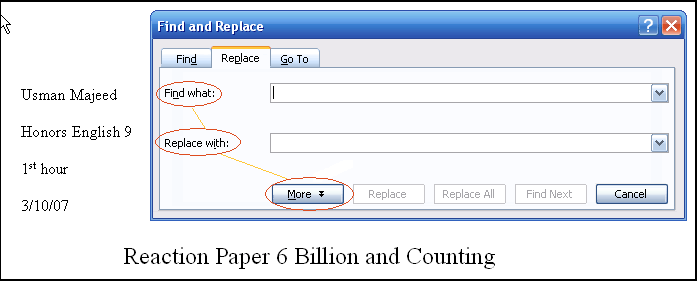 Figure 2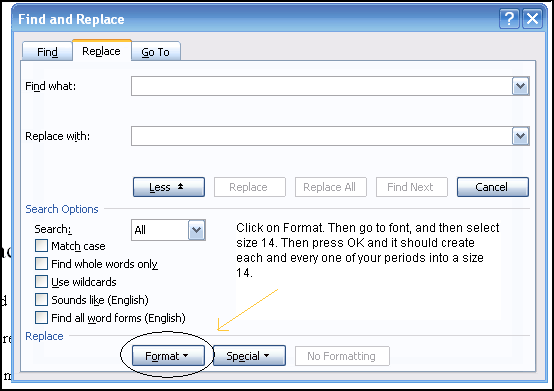 Whether it's for an English class or even Physics class (that's a tough class…that I'm taking) this technique will help your paper become longer. It's so stealth-like that it would take a magnifying glass to catch on, or if you sent the word document via e-mail instead they might find the font size is different, so it's better to print the article off. Astonish your teachers with a full length essay with our helpful technique.
Figure 3
If you liked this post, please send me a donation!