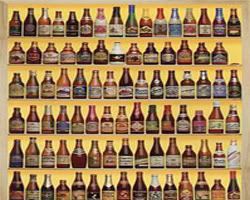 LONDON- The Beer Army is causing mass chaos in the city of London. They are a highly sophisticated group that is going around attacking police stations with everything from beer cans to rocks. So far, five police stations have already been attacked, and the damages are hefty. Police stations have reported millions of dollars in damage. To counter their efforts, all police offers have been armed with tazers and have been instructed to shoot anyone that acts suspicious.
"I was questioning a group of suspicious people from a stolen van, "Deputy Sheryl Grewn said. "Suddenly, a beer bottle came out of nowhere smashed the window and knocked me unconscious. Next thing I know, the group that I was interrogating escaped."
Police don't know how big or who exactly is in The Beer Army. The only reason they know the name is from a ransom note The Beer Army left them saying that they won't stop until five imprisoned inmates are released. The inmates have brought in for questioning, but they are as puzzled as the police. Now, The London Police has to go to the last resort of using force.
"This group of people isn't your average bandits," Captain Mike Ross said. "They are highly trained and can attack over and over without leaving one shred of evidence. No one knows how they do it. I just hope our new recruits are ready for one heck of a fight. I'm one hundred percent positive they are armed with more than beer cans. This is just the beginning."
Many civilians are complaining about the tight security measures the police are implementing.
"I was tazered just because I had a beer can in my hand. That's outrageous." Michael Kwan said.
Disclaimer:This is just a twisted story based on the news story. Why have Twisted News? To make news more interesting and to get people to read the boring news.To see the real story click here Please share your opinions and criticisms by commenting.
If you liked this post, please buy me a drank.